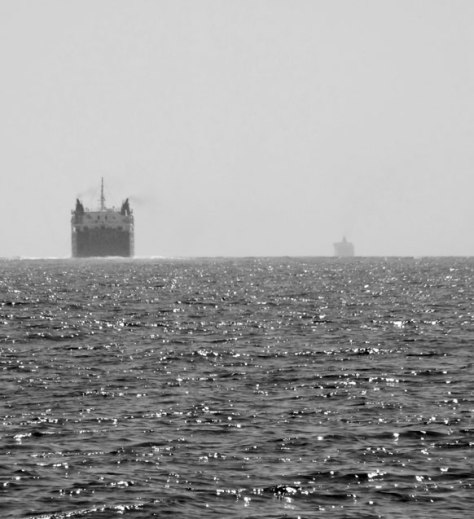 Oh what am fool am I. hehe A tired fool, me. So tired. Again. Up at 0300 for watch. Woke up automatically fifteen minutes before we were passing south of the shipping lane out of Athens. Ships everywhere. Skipper was up, pointed out a vessel on the port bow gradually closing in with their starboard light showing. We slowed to let it pass, Mark went below. I checked the plotter and looked again to see the port light of this ship. It had turned. Revs up to two thousand and let the big fella pass behind us. No drama after that, just keeping an eye on a couple of cruise ships, a fishing vessel, and after a while a large ferry passed our bow heading north. 
Most likely this will be the penultimate watch. I thank all the gods. I'm writing to stay awake, so wrecked. Dreamt I was home and we all lived in our cars. Mexicans in a big one crashed into our couch. It's like that. 
NOT FOLLOWING. I'd better reset the goddamn plotter. The last time it lost the satellite we were in the bay to anchor on our first night out of Turkey. In the dark, in a bay, close to shore, we lose the plot. No GPS when we really needed it. Deep breaths, beep beep beep, reset!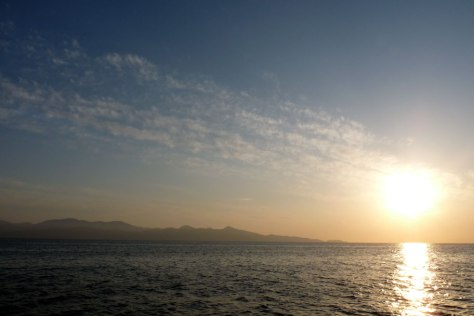 0550 
37°36'33"N 023°33'52" 
Speed 5.1 knots 
Wind 10kt on our bow 
Course 298° 
Heading for waypoint at 37°40.082N 023°25.384E with Nicos Alvina to the north, Methana to south. Ship to port, 190° relative for the last twenty minutes. This is a collision course, we're heading for the same point. I'd better wake the Cap'n. 
0640 It goes to show that you can't trust the big ship captains. I got Mark up a bit early, we were getting too close to the ship to our port. Faster than us, we were way ahead but it was catching as we closed in on a big gap between the two islands. We slowed right down, the ship crossed our bow, then turned to port and crossed again, heading off southwest. So why did it have to come across our path. A mystery. Just don't trust those skippers, who knows who they are. Well paid, but, well?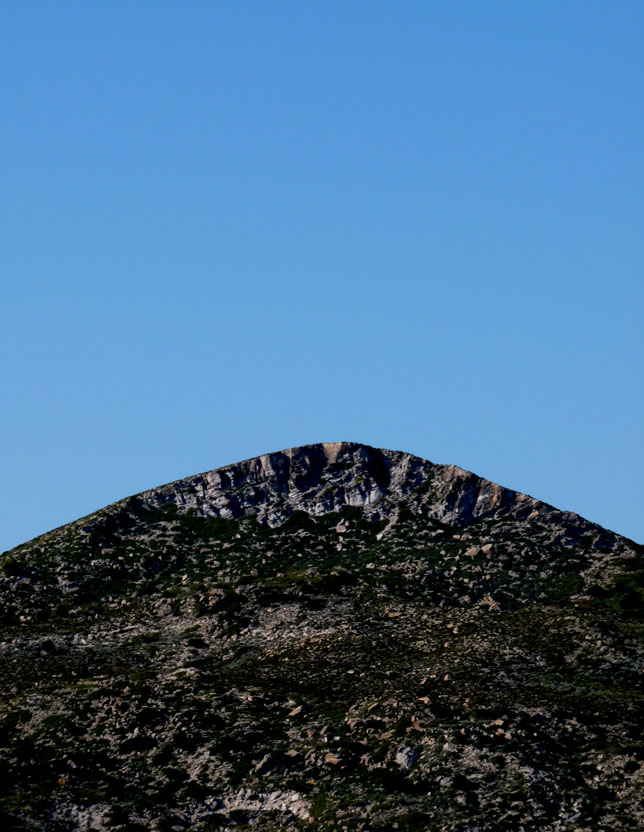 0830 We cut through the shallow gap at 37°43.789N 023°24'47"E,  heading northwest towards what is marked on the map as a submarine/mine laying training area. The water is shallower here, making the waves shorter and sharper. With the wind still on the bow, we're banging up and down the whole time. Mark hates the banging, but I don't mind it. Not yet, at least. I suspect I'll learn to hate it, given the chance. Banging headwind, submarine warnings, mind boggling. We're too wrecked for this, we must keep watch for surfacing submarines. Oh come on. 
A pair of dolphins approach us, looking like torpedoes. We're too slow for them. No fun, they disappear. I think they were bottlenoses again. Nice to know there's plenty of them around. Four islands to the north look like sleeping dinosaurs, the easterly one more like a cute puppy. We turn slightly northwards through this military area. Let sleeping dogs lie, I don't see any periscopes. We do see a couple of oblong orange buoys, though. Mine markers? Surely not, what sort of practice would that be? In war, they don't mark them. 
Turkish coffee and Italian biscuits for brekkie. That coffee would put hair on your teeth. I developed a taste for it in Turkey but out here I wince at the smell of it and need a bucketful of sugar to drink it on down.  We curve our way, the Corinth Canal awaits. All camera battery power is being saved for this, possibly the last great wonder of our voyage.