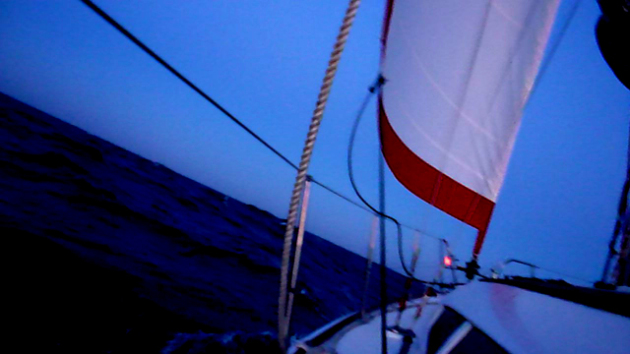 Where that first night of our voyage the sea had a quiet menace to it, the wilder sea of the Ionian is pure fierce energy. Dangerous, terrifying and also wonderful. Perfect wind for experienced sailors but chaotic for us others. No time to contemplate, no time to think. We've had it too easy. The endless hours on calm waters have been no preparation for this. The waves look big, but are they only so because they are the biggest we have seen yet? They come from starboard along with a healthy twenty knot wind. Eve is at a ridiculous angle, there's more than forty percent terror here! But yes, we did want wind. We wanted to sail and now the engines are off. Last night I stayed up for some of Dan's watch, and Mark stayed with me for some of mine, Dan accompanying him for some of his. Wordlessly, we didn't want to leave anyone alone on deck for too long, this first night of big seas. It was the first watch where I hid under the spray hood. I couldn't write anything but this song:
The day Mount Etna swallowed the sun we started out from Lipari 
Under cover of darkness we'd begun our journey to our third sea 
Calm days with the sun holding high had shown our weather for a week 
Through the gap at the toe of Italy to the wild Ionian sea 

In Lipari we had wine, we had it fine and I found my brother in song 
Earth's fuse burned on the skyline & the weather told us we must push on
Eve she tilts 30° to 45° anymore and I feel the threat 
I've done so much to endanger my life but never thought so much of death 
There ain't no answer but to push on there ain't no stepping off this bus 
I've thought so much, I've sang many songs, now I only can think of us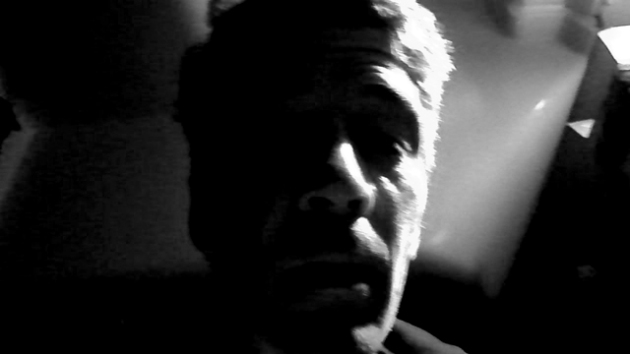 On waking up I had no idea which way was actually up. Too tired to have working body mechanics, automatically now using my system to dress. The small piece of floor in my cabin holds my clothes in a sequential manner, as I undress I position everything for easy access the few hours later so at the start of watch it takes me less time to get prepared. It had taken me too long to dress, the first couple of times trying. Then the system kicked in. And now with the boat pitching I have to shove my back against the port hull, my feet holding me steady against the engine compartment and try this system. Completely confused, I had put on my leggings, then my right shoe, before I remember I should put on my waterproofs before my shoe. So I put my right leg through my waterproof and then both shoes. Laces tied, I realise that this didn't work the first time either so off with the left shoe, on with the waterproofs, and finally both shoes on. It took too much time to find the right order of things. It should have been easier, yes? No? Jesus, such a simple thing, so bloody difficult! 
I dream Shay is about to move house to a place where I was going to move to before. The whole street is under six inches of water. I told him it was "normal because the road heads east." Then a hilarious dream where I was part of a successful BBC improvisation pilot show with Bill Bailey, amongst a clutter of comedic stars. All I remember now is the exploding helicopter and our indignant rant against climbing instructors, bursting in to an adventure centre, "You can't just stick children up on the wall!" The show is a success, we hug as a winning team. As we part I try to explain to them that this is a dream, my dream, but that if we're all dreaming this, in some kind of communal way, then they should get in touch with me when they wake up. "My name is Stuart Doyle, I'm from Dublin, find me on facebook." I wake up laughing and remember that I'm on a boat. 
Wind has dropped, I think this is better, for now. I can write with less difficulty, anyway. There's not much "should" at sea. There's "must" and "do", but should? Okay, we should have bought more pasta and coffee in Lipari. Ice-cream too. But that was land, plenty of "shoulds" there. Fuck it, we should have stayed in Lipari. One extra day. The weather further on east that quickened our exit didn't materialise. Forecasts are rarely accurate on land so why should I think they are correct out here on the water? The skippers talk about land being where the real danger is. But there you can stand up, sit down, run and jump with no problem. I think I needed one extra day.
Dawn. The sun surprised me. All of a sudden she's up. Good morning! 6:55am, Greek time. A salad would be nice. I haven't eaten since breakfast yesterday, except a couple of biccies. Belly feels bit better now. Just don't mention rabbit stew. 
7am GMT+2
 
37°31 114N 18°14 093E
 
COG 98° Heading 103° 5.5kt
 
I eat two biscuits with cheese. Downed with water, just as satisfactory as yesterday's omelette. Adam is ahead, and the lights that have followed us all night are revealed to be a sailing vessel like ourselves. I'm still reluctant to call Eve a yacht. She's a good boat, however, I have more trust in her now, just! Perhaps our stalker isn't the same one that sat on the horizon behind us last night. The lights of that one were more likely to have been a fishing vessel. We'll see. If she catches up today we'll know. If she stays there, then who is she? She looks bigger than us, something regal in the way her sail sits, westward from my position. Nice to see a bigger boat, it reminds me of that monster ship we saw yesterday. Must have been an aircraft carrier. Who knows what's going on? We could be heading into a war zone. Syria's a mess, Greece is at breaking point, what's going on in Turkey then? I've heard that our destination, Gocek, is a hive for Turkish mafia. Intriguing, I have no idea what to expect other than clean showers. 

The boat behind doesn't seem to keel over as much as we do. The binoculars reveal it to be a single hull. It's gaining on us, I think. I'm so unsure of everything. The wind holds at eleven knots, our speed around five. I'll wake the Captain soon. In the morning light ahead of us, Adam looks like a Chinese junk ship. I still barely believe that the mechanics of sailing works. But it does and has for so long. As Dan says, "Now, there's free energy!"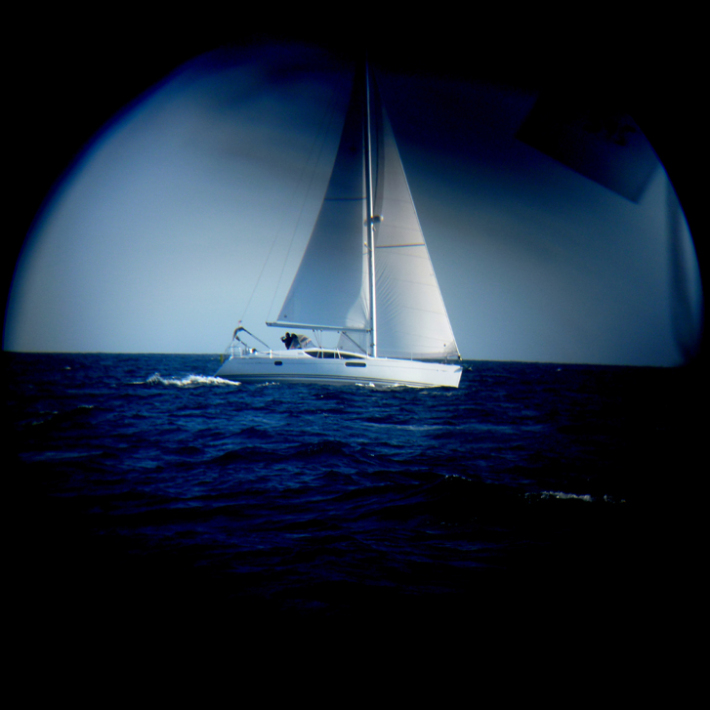 1625 GMT+2 

37°19 890 19°18 037
 
Our stalker passed us, a slightly bigger yacht. Not so much bigger, I'm realising that perhaps we look equally regal on other ships' horizons. Eve is a capable girl, she handles the wild, choppy seas better than my stomach. I didn't eat much for twenty four hours but Dan and I were able for lunch today. Since his wonderful omelette under Etna I'd only had a couple of biscuits and that piece of cheese. He's peeled spuds for this evening and has them in a bucket of seawater. Salty dogs now we are. I had my baptism (and communion) yesterday when a breaking wave hit the boat and partially soaked me. Made an interesting pattern on my fleece's back, so I was told. It's much calmer now, just as we were getting used to the motion. But I'm not complaining. We'll be better set up for the next time. And we saved fuel. And food! Wind's down again to nearly nothing. 4.3 knots. Pilos, our next chosen stop, is about twenty hours away at this speed. We made amazing time with the wind. Even with twelve knots wind, the boat hits seven herself. Capable, indeed. And the more I understand how she works, the safer I feel. Imagine, Mark and another crew crossed the Atlantic last year in the same model and size boat. I'm glad my first voyage has been so forgiving. The Ionian is quiet now, we haven't seen anything since our stalker overtook us bar one jet plane. Quiet. Too quiet? Once again, we'll see.